Many foreign friends may not be accustomed to Chinese food when they come to China, but other Western restaurants seem to be overpriced except for fast food restaurants like KFC and McDonald's? This is very disturbing to foreign friends.
Don't worry, today I'm going to introduce you to a cheap and delicious Western restaurant called Saizeriya,it'san Italian restaurant from Japan, the restaurant has many stores in China's first-tier cities such as Shenzhen, Guangzhou, Beijing and Shanghai.
If you are in China, you can search for "Saizeriya(萨莉亚)" in Baidu map or Autonavi map APP, it will find you the nearest store, very convenient.
The menu at Saizeriya is very varied, with more than 70 dishes, plus wine and cocktails, making it nearly 100 varieties.
Based on the Italian way of eating, while adding the European and American table of traditional food, as well as now popular overseas raw materials, to enrich the customer's table.
Let's see what's on Saizeriya's menu? What's the price? Saizeriya's menu was this big, attractive cover.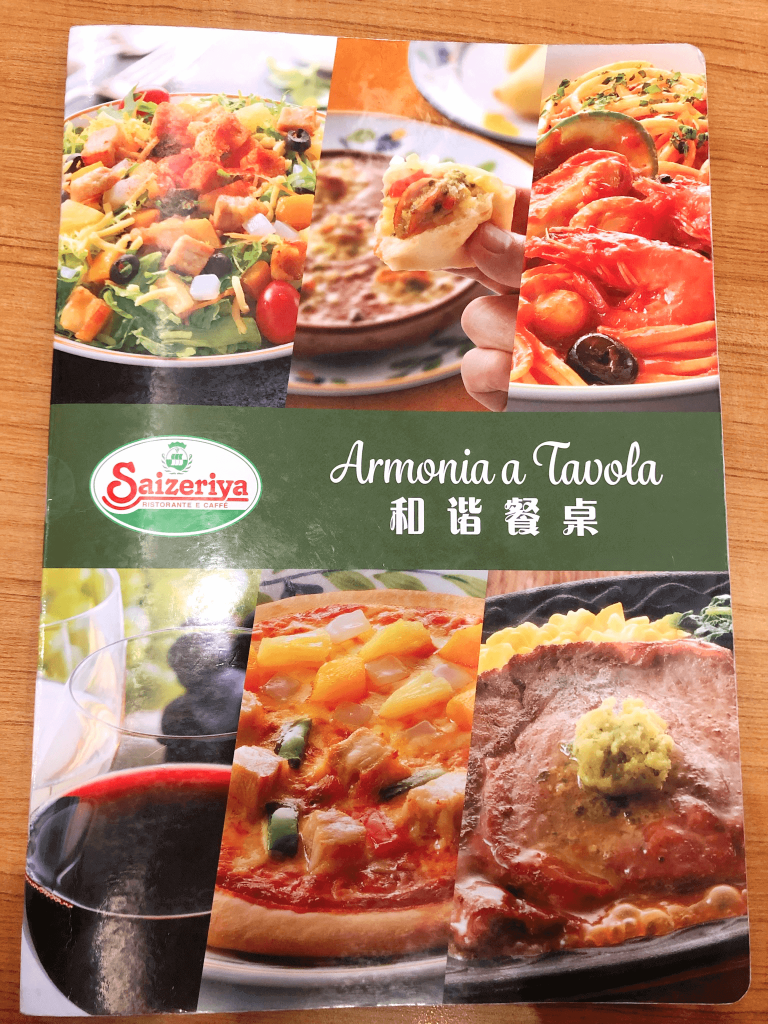 On the first page, here's the menu, pizza, Pasta, dessert, Salad, risotto, and so on, and you can see the price, that's only a fraction of the price.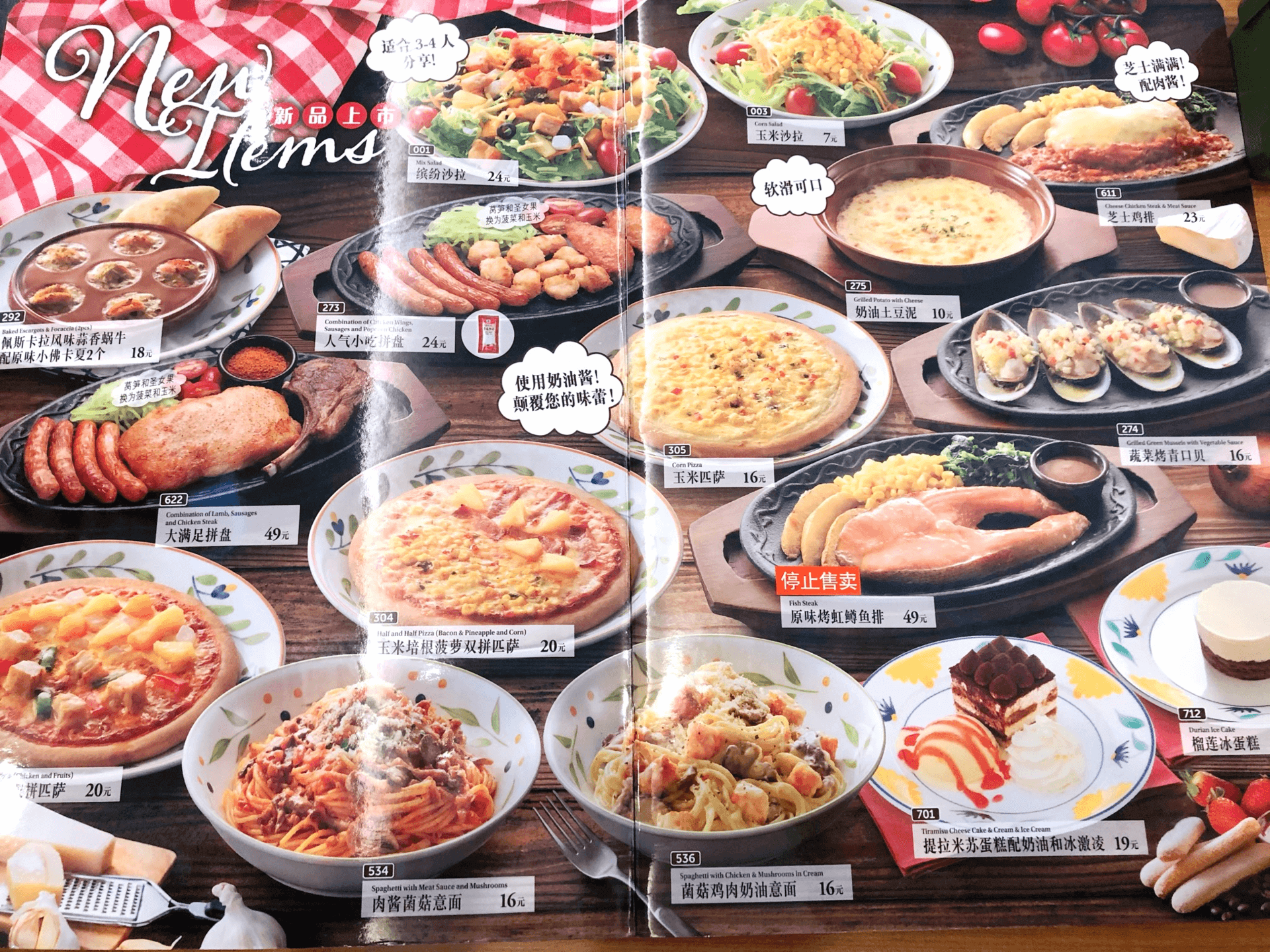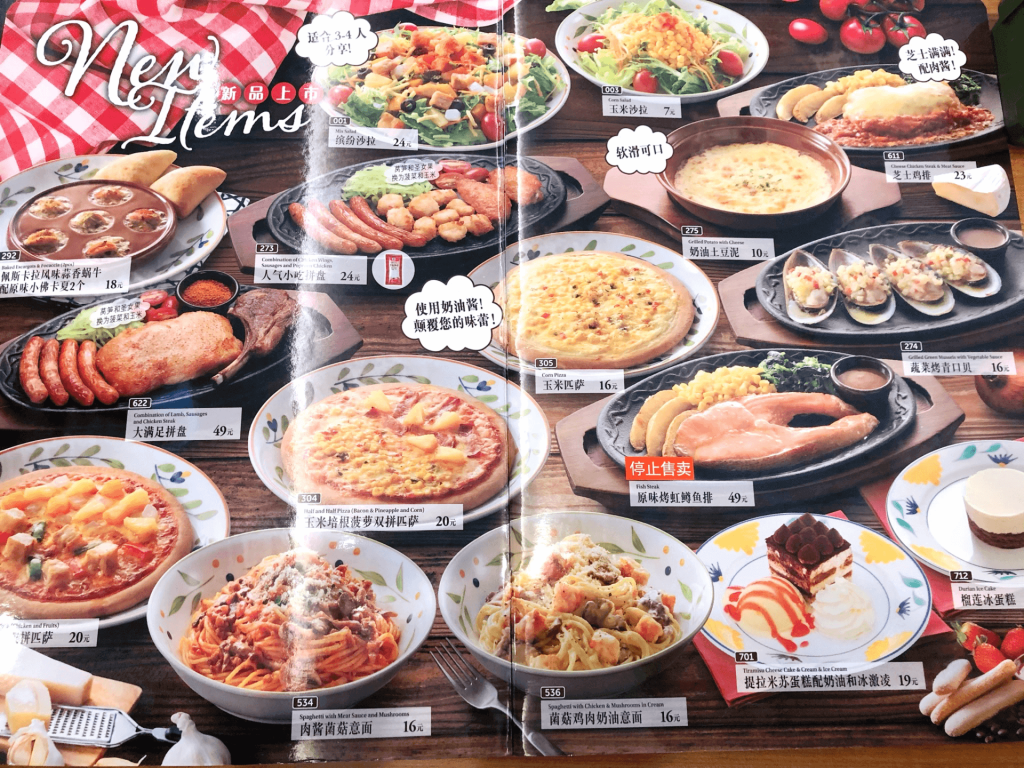 We've picked out a few pages to give you the details, and here's a menu of Pasta with meat sauce, Spicy Pasta, Bacon Pasta, mushroom pasta, and cuttlefish sauce, all of which cost between $2 and $3, and come in plenty, and it tastes great, too. Isn't that a bargain?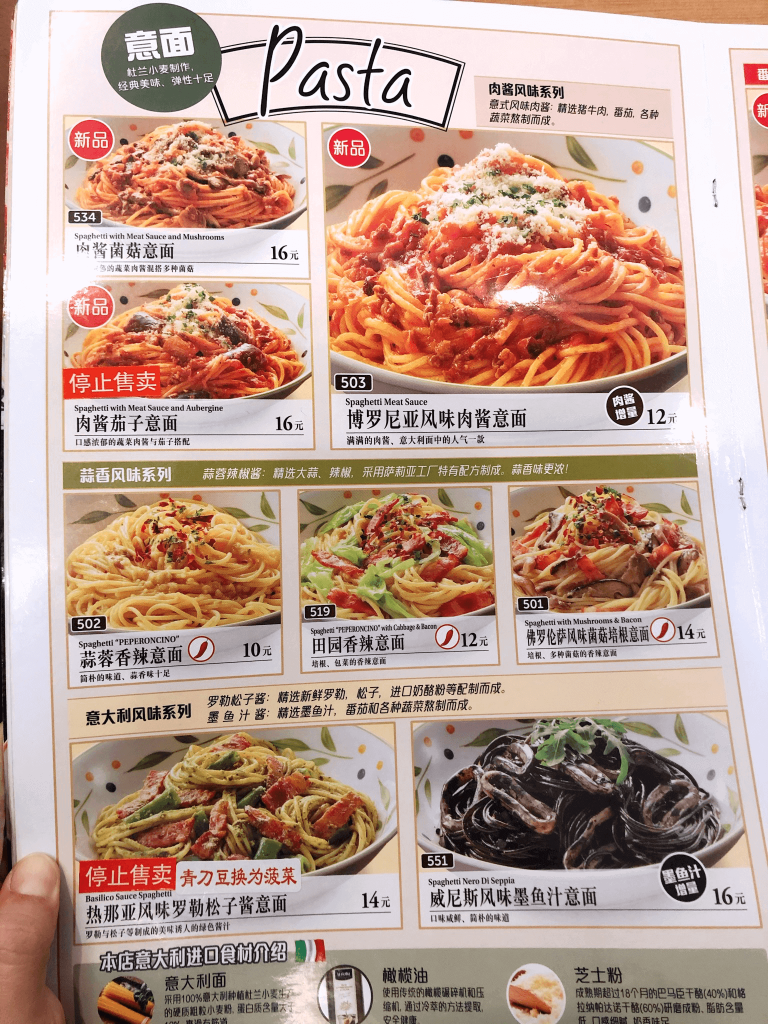 Then there's the pizza menu, which includes the very popular cheese pizza, as well as fruit pizza, Bacon's pineapple pizza, beef pizza, chicken pizza, but that's only part of it, the price of pizza is a little higher for meat, about $3, and the price of fruit and vegetables is a little lower, about $2.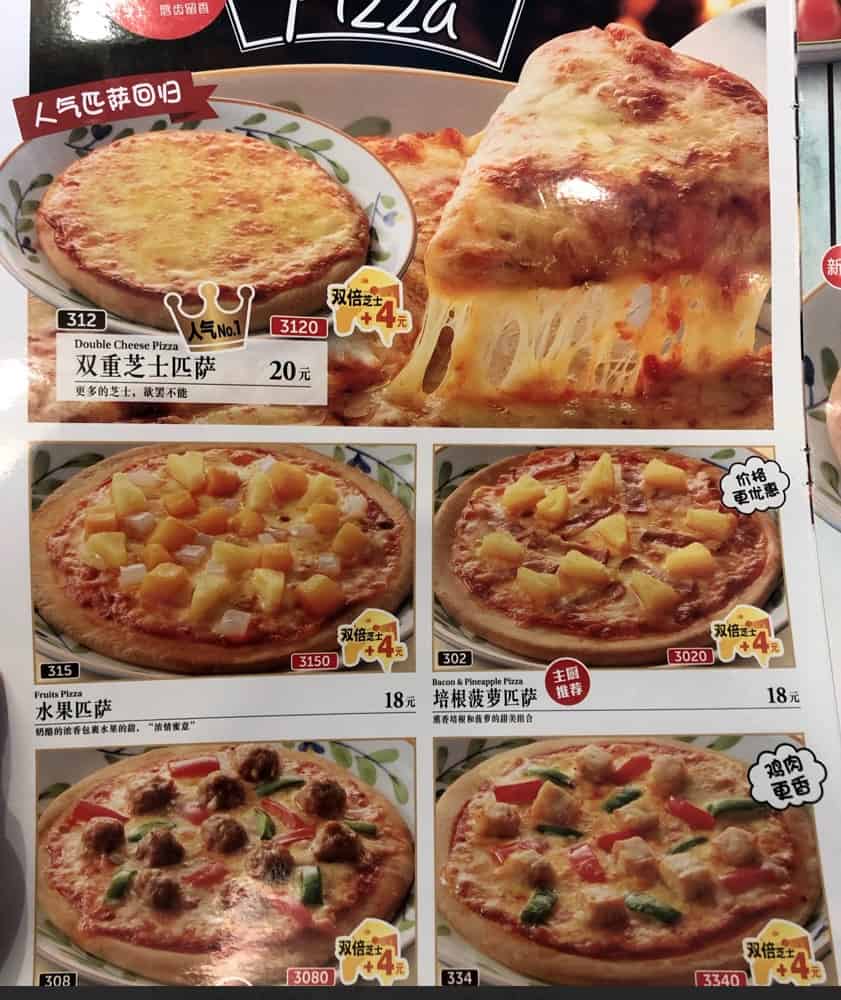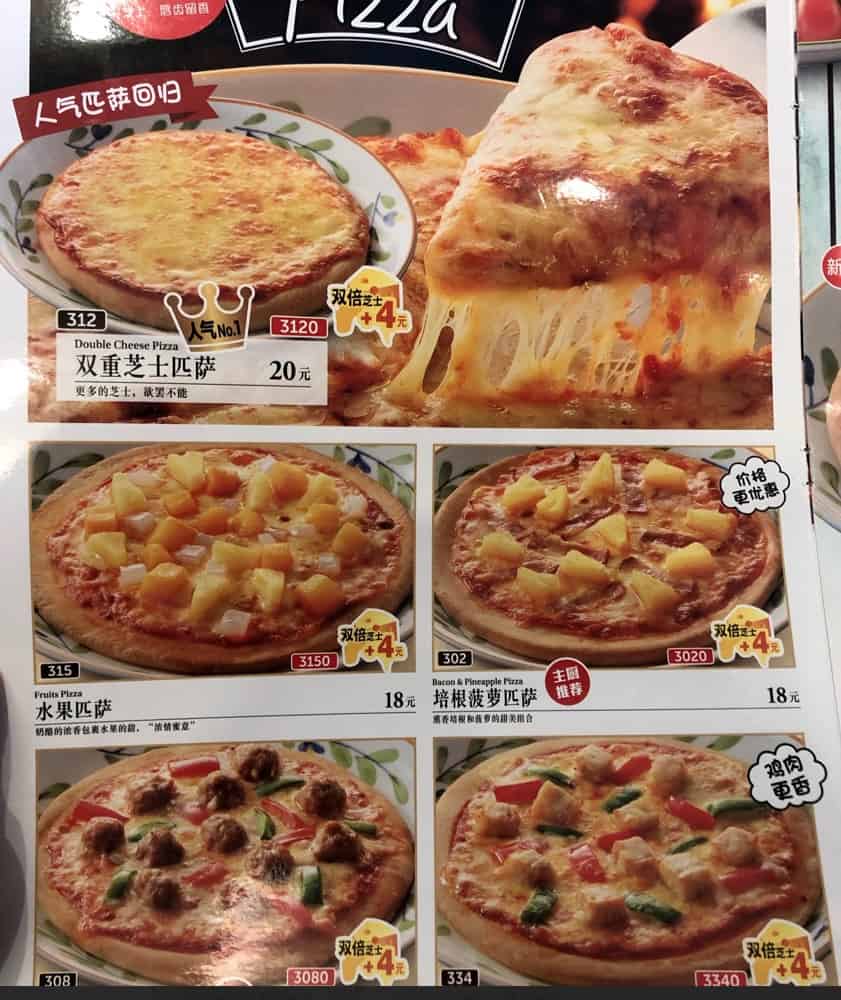 It also has many desserts, such as Tiramisu, pudding, ice cream, etc. . I always order this mango pudding every time I go there. It is very delicious and very cheap. It only costs a little more than $1. TIRAMISU and cake are a little more expensive, about $2.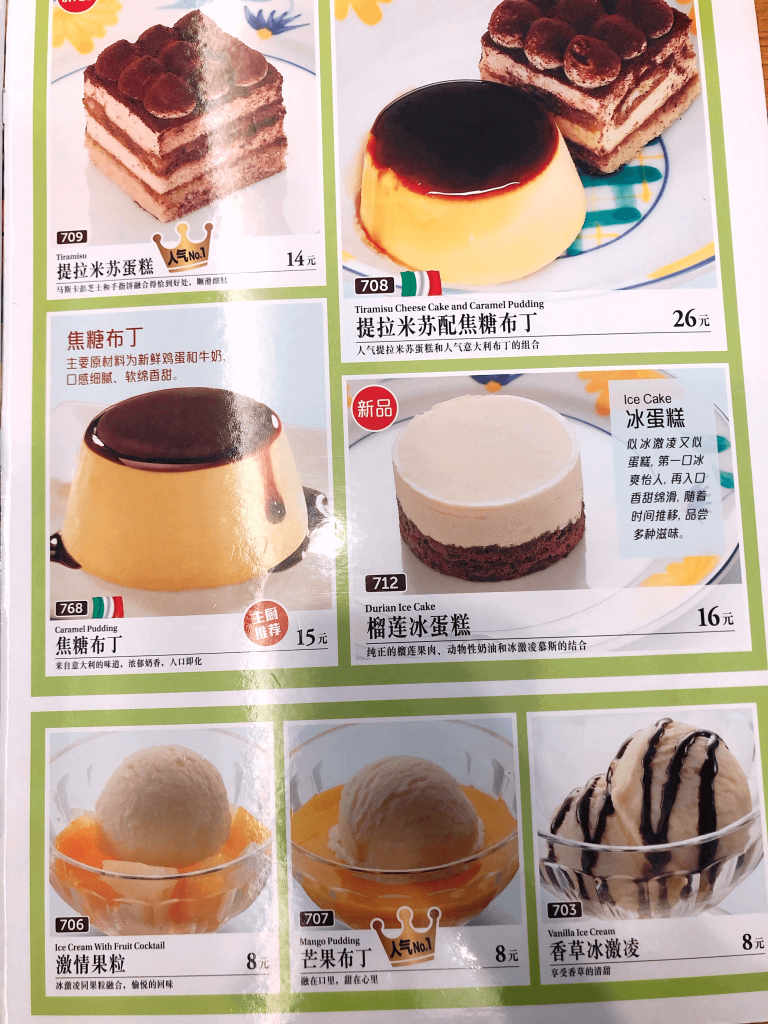 On this page are snacks and drinks. There are also a variety of snacks, including shellfish, chicken and popcorn, mashed potatoes, and grilled chicken wings, all priced from $1 to $3. As for the drinks, the hot water is free. If you want soda or juice, you can add as many as you like for $1, but the store's policy is that one cup is for one person only, so if there's two of you, you'll have to pay $2 for unlimited drinks.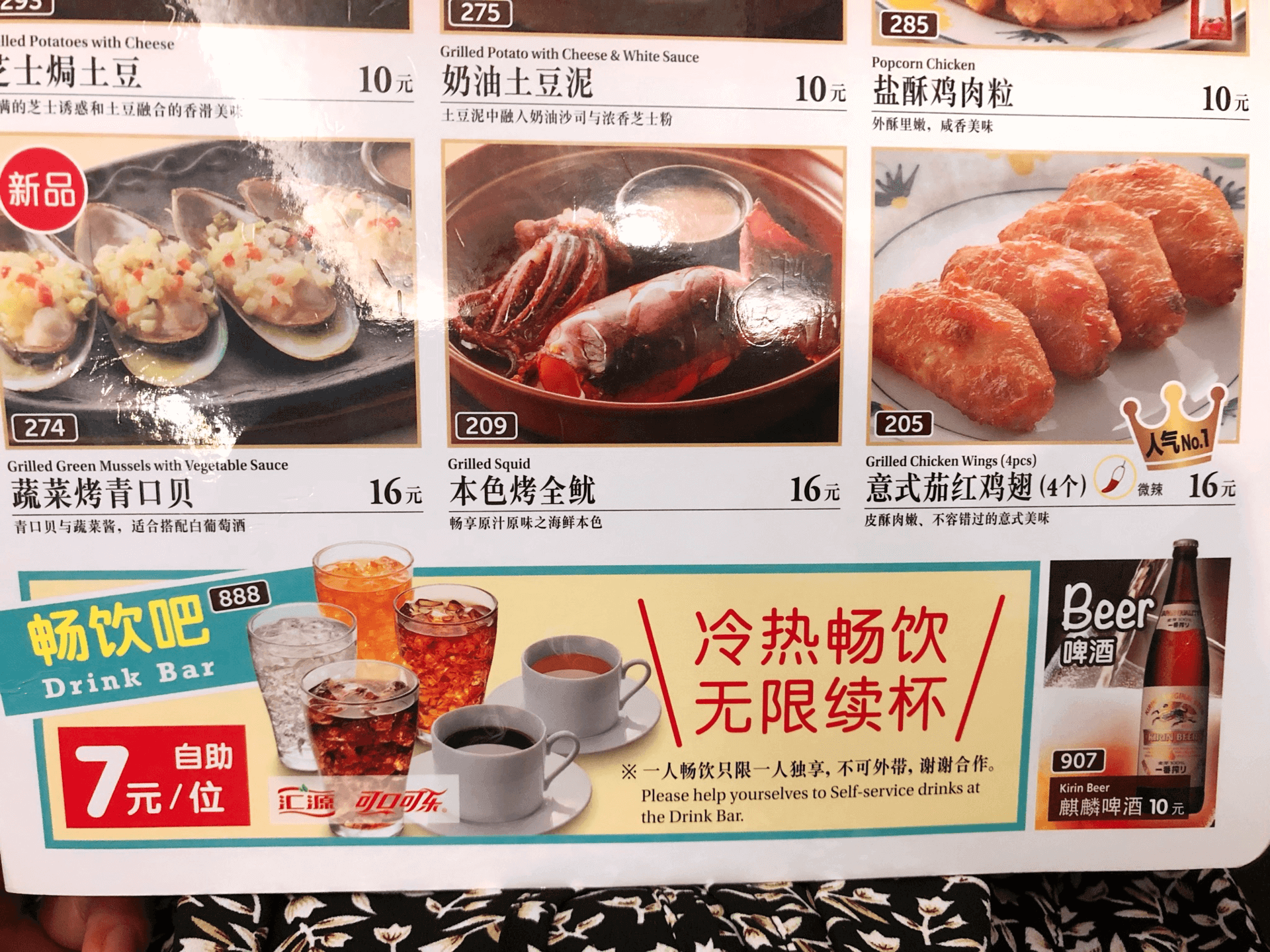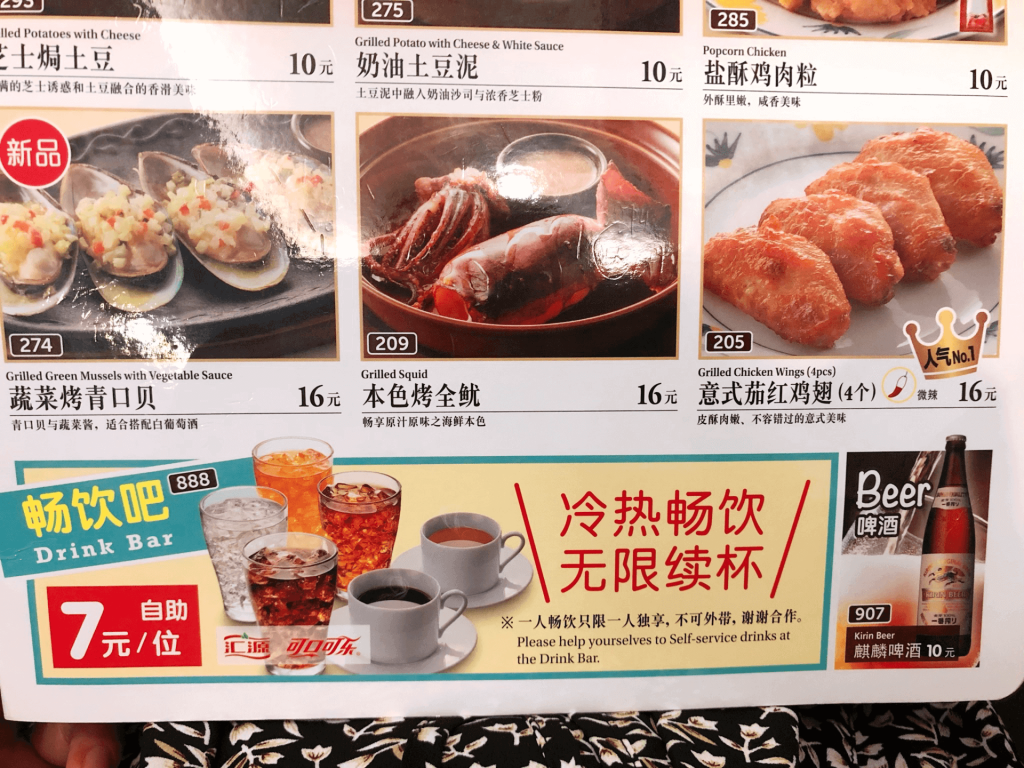 In addition to the above, there are a lot of dishes on the menu, which you need to see for yourself. My husband and I often eat in this restaurant.
Let me show you what we ordered. Can you believe that? This big table of goodies, only $14!
Some of the new stores offer special deals. It's a two-person package, and it's a great deal, but not every time you get lucky. But even without the event, a single order is cheap enough for two or three friends to dine together.